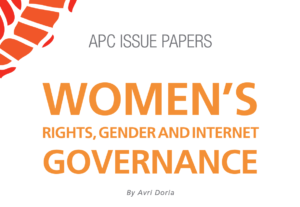 This issue paper addresses the degree to which gender and women's rights feature in Internet governance, in multiple interconnected ways including, but certainly not limited to, access, content and representation. Gender and women's rights occupy a largely rhetorical role in today's discussion of Internet governance.
When speaking of access, there is a noticeable inverse proportionality in the movement against the digital divide. Often, especially in countries with pronounced gender discrimination, as the overall percentage of men with access grows, the percentage of women without access or with limited access remains steady, thereby increasing the gender imbalance. And often there is a direct proportionality between increased access for women and violence against women online.
On representation, an issue that has been very important in civil society and the private sector, there is recognition of the need for more women in leadership, more women on panels and more women involved in agenda setting. Civil society focuses largely on bringing women and women's topics to the table, while the private sector has placed a premium on developing the capacity of girls and women for leadership in industry and representation as experts on mainstream topics. To a degree there is an improvement. One does see more women participating in the process of Internet governance, although meetings that are not specifically about women's issues still see only token participation at leadership levels.